Tokyo's Shopping Jungle: Shinjuku
Shinjuku Station is Tokyo's shopping jungle. Ginza might have all the glitz and glamour and cater to the upscale shopper, but Shinjuku is for everyone. Nowhere compares to it's busy, hectic, exciting and insane crowds, buildings and stores. The streets are dense with teenage girls with dozens of shopping bags piled up on their wrists, tourists snapping picks at the neon towers and salarymen chomping down on delicious quick service food.
We had visited Shinjuku in the evening the night before but decided to come back during explore the menu options and do some shopping. Between the Western Skyscraper district and the redeveloped Southern Terrace is Kabukicho. Kabukicho is usually known for being the wild red light district, but the area right on top of Shinjuku station is where you'll find some of the best department stores, subterranean malls and electronic shops in Japan.
Each one of these shopping mall towers has enough stores to keep anyone busy all day. Just close your eyes and spin around. No matter where you end up, you'll have a blast and find some unique, Japanese brands and don't forget to explore the food courts!
We decided on the Lumine Mall which is owned by JR East. The giant shopping complex is divided into "Lumine 1" and "Lumine 2" on either side of Shinjuku station. Lumine is most notable for carrying Japanese clothing brands, no huge name brands but affordable and quality pieces from Japanese designers making stuff for young, Japanese people.
When you exit Shinjuku station, before entering malls, be sure to check out all the Gatchapon machines they have outside. They're some of the best you'll find on the street!
The first series of floors in Lumine is clothing stores, but on the higher levels, you'll find huge "food courts" and restaurants. I put food courts in quotations since the food you'll find there is of the highest quality, and unlike any of the subpar food you're used to from food courts in North America.
When you enter the mall, you'll notice right away that you're going to spend most of the day going up and down escalators and elevators, getting from place to place. These escalators are sometimes out of order, but the cute signage apologising for the inconvenience was too adorable to be mad about.
We were lucky to find a brochure about the mall, in both English and Japanese, to help us find what we were looking for. Despite having a map, the best way to explore these malls are to walk around and discover things for yourself. Not knowing any of the brand's names means everything is new and needs investigating.
Japanese malls like this don't have walls separating the stores; it's more like a giant open concept office. This saves on space and makes the entire place feel more open. A small sign above the area distinguishes one shop from the next.
Shopping in Japan is tough when you're tall and curvy like me. I'm not a plus size, but in Japan, finding anything long enough, let along big enough, is nearly impossible. That being said, accessories and housewares are plentiful, and you can get so many adorable items that are unique to Japan. There are a few shops that cater to bigger sizes, but they're few and far between.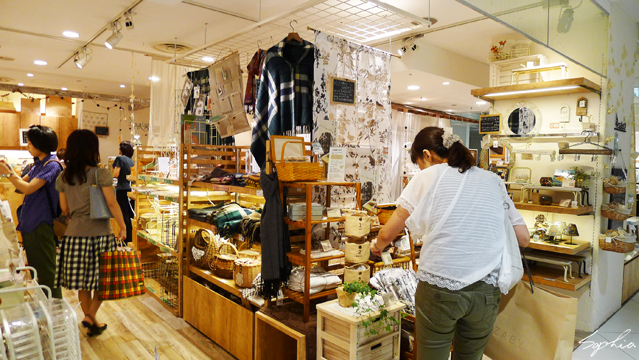 "Lolita" is a fashion subculture in Japan, based on Victorian and Edwardian clothing, generally produced in pastels and other light and airy colours. Over the years, these niche clothes have begun translating into the mainstream and although they might not be as extravagant as the real Lolitas might wear, the lovely, frilly collars and darling accessories have started showing up in shops all over Japan.
The one store I was searching for was a cosmetic and beauty shop called "IT'S DEMO". IT'S DEMO concept is "a bit of happiness, a bit of convenience, a bit of help". They carry everything any young, otaku girl could want. Beauty products branded with Disney, Pokemon and Sailormoon characters. Cute stationery with adorable cartoons and colourful writing pads.
My favourite was the Disney Princess collection. I picked up some Alice in Wonderland themed eyeliner, an Ariel compact and some Sailor Mood eyelashes.
Since it was Halloween, the entire mall was themed in spooky decor. They love their holidays here and go ALL OUT. Even the bathroom mirrors were covered in bloody handprints decals. Like I said, ALL OUT!
After visiting a few of the retail floors, we decided to head up to towards the food court. We were in the mood for some Okonomiyaki and found a restaurant that sold just that almost right away. In the front of the restaurant were dozens of plastic models of all the different varieties you could make. These plastic models are amazingly lifelike and drew us in.
Okonomiyaki is a Japanese savoury egg pancake. Inside the pancake, you'll find a variety of ingredients, meaning every dish is a unique masterpiece. The name itself is derived from the word okonomi, meaning "how you like" and yaki meaning "grill". So in English, it would literally mean; "grilled how you like it".
The restaurant was completely empty. We arrived a little before the lunch rush so the waiter was so patient and helpful in showing us the menu and helping us choose our creation. Okonomiyaki starts off with a batter made of flour, grated yam, water, eggs and shredded cabbage, and usually contains other ingredients such as green onion, pork belly, octopus, squid, shrimp, vegetables, or cheese. People often refer to Okonomiyaki as "Japanese pizza" with all their topping options. We went couldn't choose between pork and shrimp so we decided to get both!
Most okonomiyaki restaurants are grill-it-yourself establishments. In this case, the server will bring you your bowl of raw ingredients, and you can mix it together and cook it to your taste on the grill that is on top of each table. There were instructions as to how to go about preparing it, but since we were the only ones there, the waiter offered to help us get started.
First, you mix the batter and the veggies together. While mixing, grill your meat and fish a little bit since they take longer to cook than the rest of the dish. Once the meat and fish are cooked half way, add them into the batter. That gets thrown on the grill and shaped into a circle. Once the bottom of the pancake is brown, give it a confident flip to cook the other side. The toppings are always right beside the grill and include okonomiyaki sauce (similar to Worcestershire sauce but thicker and sweeter), aonori (seaweed flakes), katsuobushi (bonito flakes), Japanese mayonnaise, and sometimes pickled ginger. We layered it all on with gusto and dug right in.
The dish was warm, creamy, crunchy and chewy. It was everything you could want. I added on additional mayo and fish flakes to give it more of a bite whereas Dan added on more Okonomiyaki sauce to make it a little sweeter. It is such a fun, food experience and a great way to learn something new while eating.
For dessert we headed back out on the street and passed by a few upscale vending machines with desserts we'd not see before. Ice cream cone and fresh pastries every available without ever need to speak to a human. The big lesson when travelling in Japan is never to get too full, because there is always something new to eat around the next corner.