Guide to the Must-Have Souvenirs from Tokyo Disneyland and DisneySea
Tokyo Disney is one of the most amazing amusement parks in the world but what they really excel at is creating incredible merchandise to commemorate your time in the park or wear throughout the park to show off your passions! Japanese fans love their merchandise! You'll see girls wearing backpacks COVERED in little Duffy keychains, so many the backpack simply disappears. Everyone who is anyone in the park will be wearing some sort of Disney gear and trust me, upon seeing everything that's on offer here you'll find it impossible not to buy it all. But here is my list of the BEST items to both buy while you're in the park and bring home for your fellow Disney loving friends and family.
Pass Cases
One of the most popular items throughout the park are the Pass Cases. In Japan, no matter what city you're living in, requires you to buy a metro or train pass card which you can load all your money onto in order to take the trains. This means all you need to do to pay your fare is scan your card and go! It's so easy, especially for foreigners, since you don't need to worry about figuring out the particular price per distance. Because these pass cards are so prevalent, cases to carry them in have become one of Japan's hottest accessories. And Disney doesn't hesitate to corner the market! Here you can buy the heads of many of your favourite Disney Characters, even some which aren't the mega-popular Disney Princesses we only see merchandise for in the West. The hamburger pass case is one of the most popular despite the fact that it isn't a character at all! So even if you're not a huge Disney fan, but love these cases, there is something for you!
PRICE: 1,800 yen
Sublimation Shirts
Tokyo Disney's iconic "sublimation" shirts are one of the most sought-after pieces of merchandise. They often come out with different patterns or themes throughout the year but the consistent ones are the movie character groupings. They are so bright and colourful that no Disney fan can leave without buying at least one! This year they also release several shirts with patterns created from memorable areas of the DisneySea park such as Mermaid Lagoon's mosaics and Toy Story Mania's cutouts. Some Disney character t-shirt can look cheesy or too childish but these shirts' patterns are so impressive and dynamic that you won't hesitate to wear them all over the place!
PRICE: 2,600 yen
Baseball Caps
Something adorable which can be worn easily outside of the parks are the Mickey ear baseball caps. Essentially they are a baseball cap with two giant pompoms on either side to replicate Mickey's ears. These come in a variety of colours and during the Springtime and special events often come in limited edition hues. They are both casual and sporty and give any outfit you wear a joyous spirit!
PRICE: 3,500 yen
Sunglasses
The character sunglasses at Tokyo Disney were something I was dying to get and went I finally saw all the options I was overwhelmed! I finally decided on the pair I had been coveting from afar for a month, the Donald and Daisy kissing pair! They had a variety of other characters, including Winnie the Pooh, The Monsters Inc. favourites and a selection of Mickey and Minnie seasonal options. These are so cute and on a sunny day are the perfect thing to up your look.
PRICE: 1,800 yen
Minnie Bows and Mickey Ears
The oversized bows, modelled after the ones Minnie wears in her hair, are Tokyo's version of the traditional sequinned Minnie ears found in the US parks. These come in a myriad of colours but the seasonal selection is always extra special. Summer 2018 brought patterns designed after different summer fruits! The Mickey ears are similar to the ones found in the US parks but they are totally unique to Japan so if you're a collector this is a great place to get something you can't get anywhere else! Mickey train conductor hats are also available due to the prevalence of trains in Japan and are a great souvenir of your trip to Tokyo.
Price: 1,400 - 2,600 yen, depending on style and size
Popcorn Buckets
Tokyo Disney Popcorn is bar-none the best kind of popcorn from all the parks around the world. They have weirder and wilder flavours which demand your gluttonous attention. And there is no better way to eat it then out of a themed popcorn bucket. These make GREAT souvenirs and are beautiful pieces to carry around the park with you. There are always the iconic classics (Dumbo, Cinderella's carriage and Ariel's Seashell) but the speciality ones which are limited edition are where it's at! When Tokyo Disney was celebrating Donald Duck's birthday, they came out with a limited edition birthday cake popcorn bucket that was so stunning, it was hard to believe it wasn't real cake! After you purchase your bucket, the popcorn refills are discounted, giving you more reasons to try out all the different flavours.
PRICE: 1,600 - 3,200 yen depending on size and design
Duffy
Duffy is the most popular character all over Tokyo Disney. Duffy was once a discarded merchandising endeavour for Disneyland. Marketed as Mickey's stuffed bear, it didn't catch on with US audiences. Seeing it's potential, Tokyo took on Duffy as the mascot for their new park, Tokyo DisneySea. With expert marketing, a darling storyline and an adorable character, Duffy caught on like wildfire in Japan. Duffy stuffed bears can be purchased all over the park and you can also buy his friends, Shelley May, Gelatoni and Stella Lou. Each of the stuffed animals come with their own outfits so you can style your Duffy and Friends to match your own personal style. These are absolutely darling and if you've got kids, this is the best kind of souvenir they can cuddle with for years to come.
PRICE: 3,900 yen
Pins
While Disney pins are much bigger in the US, the Tokyo parks do have a few unique options available. Much like the rest of the merch at Tokyo Disney, these pins are wildly adorable and creative. I was sure to pick up the ones with the names of the parks spelt out in traditional Japanese lettering but there are also a selection of character pins worth checking out.
PRICE: 800 - 1,000 yen
Tomica Cars
One of Japan's most beloved form of collectables are these Tomica's cars. A new car is released from the yearly lineup on the third Saturday of every month and you'll see huge lineups outside of hobby stores on those days. But Disney produces their own line of Tomica cars which have become extremely sought-after in the parks. New ones are constantly coming out. They are miniatures of some of the real cars which drive up and down the streets of Tokyo Disney as well as fantastical models of cars designed after various Disney characters. These are great for kids and adults alike.
PRICE: 800 - 1,200 yen
Chopsticks
While in Japan, you'll be eating with chopsticks every day! If you're not familiar with using these, visiting Japan is like taking a crash course! Bring back some of those memories with a charming set of your own Disney themed chopsticks. They come in a variety of design featuring some of your favourite Disney characters.
PRICE: 800 - 1,000 yen
Oversized Character Bags
Throughout the park, you'll find various oversized bags with the darling faces of certain popular characters. Duffy is a popular one, followed by Gelatoni, Chandu the Tiger and there is even a giant version of the tiny hamburger bag. These are colour and cute and while they are on the pricey side of things if you're looking for a large bag to carry on a daily basis which is fantastically whimsical, this is the bag for you!
Customizable Pens
If on the other hand, you're looking for something a little smaller but just as fun, the stationary stores in Tokyo Disney sell all sorts of pens. Now, this might sound a but boring but it couldn't be further from that! Each of the pens come with two exchangeable accessories. You can buy all different toppers for your pens, mix and match, and create a customized piece of stationery just for you!
Price: 850 yen, toppers 500 - 700 yen
Phone Cases
If you're anything like me, you have a thousand silicon phone cases. Not only are these so cute, they really do a good job of keeping your phone saf ! They do create a rather oversized version of your phone but I find the larger the phone, the easier it is for me to find! The unique cases at Disney are marvelous. They feature some obscure characters and designs you couldn't even dream up that the Disney Imagineers have already thought of for you!
PRICE:
Squishies
Squishies are one of those fads which is sweeping the nation right now. Fidget spinners are a thing of the past and now it is all about Squishies! These are essentially brightly coloured foam toys in all sorts of different shapes and sizes which you can squish but then after a few seconds, will return to their original form. It's very relaxing and sort of like the millennial stress ball. Disney caught onto the trend fast here in Tokyo and you can find Squishies in the shapes of Disney Characters as well as some of the iconic food items which you'll find throughout the parks!
Cosmetics
At the Disney parks, you can always find different cosmetic brands doing collaborations with Disney, creating beautiful packaging with our favourite characters. So if you'll looking for a lip balm or sun lotions, pick it up here - although it might cost a little more, the cute packaging will make you happy every time you go to grab it.
PRICE: 1,800 - 3,200 (depends on the type of product)
Fake Food Keychains
Food within Tokyo Disney parks is out of control and people are obsessed with it. So much that there are even souvenir merchandise all surrounding the food at the parks. All over Japan you'll see fake food in restaurant windows and storefront advertising what can be eaten within. At Tokyo Disney, they have used the fake food styling trend to develop new merchandise! You can have a keychain with your favourite meal from the park cheerfully displayed no matter where you go!
PRICE: 1,800 yen
Tokyo Disneyland Souvenir Shirt
Although there are a lot of well-priced items in the park, there is perhaps none as cheap and iconic as the Tokyo Disneyland simple logo t-shirt. They sell these in vacuum sealed bags and although the quality is slightly less than the other shirts in the park, you get a lovely pale grey souvenir shirt with the Tokyo Disney logo on it for less than $15 USD. Since they are vacuum sealed they make for cheap and easy to pack souvenirs to take home to the entire family!
PRICE: 1,500 yen
Rice Scoops
Another Japanese souvenir to grab in this park are the kitchen accessories, especially these adorable rice scoops. They come in a variety of character designs but my favourite is the Donald Duck scoop in the shape of his yellow foot sticking out of a water buoy! Rice scoops are textured spoons which help portion out freshly cooked rice.
Price: 500 yen (Minnie, Mickey, and Donald), 800 yen (Winnie the Pooh)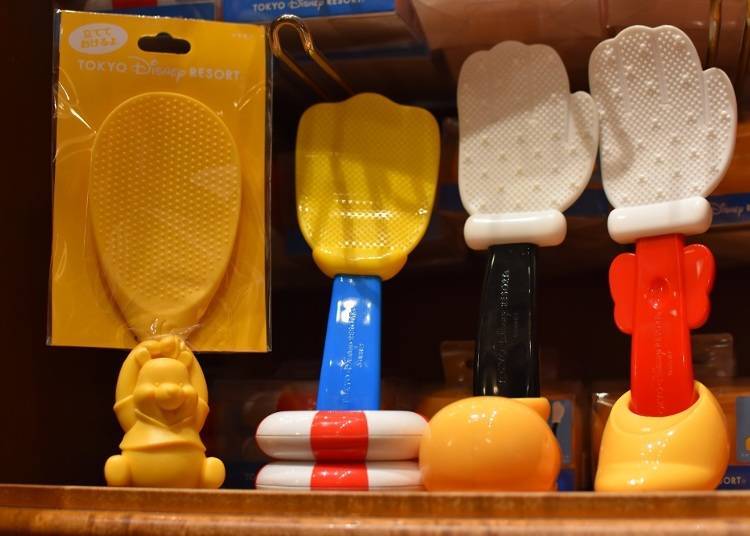 Lint Rollers
Let's face it, if you like your cloth to look clean, most of us have a lint roller stashed in our purse at all times. Disney wants you to customize your lint rollers and have two sizes with whimsical designs. The larger version is meant for lint rolling your carpets and rugs. The cutest part of these are characters whose tails are the handle for the roller!
Price: 1,500 yen
What were your favourite souvenirs from this magical park?!